Did someone say male order? Here at Celebration Cottages we have the perfect buff addition to make your hen party the most memorable! Introducing our cheeky butlers, their personalised service can include party games and fun, or if you prefer a more formal evening they can simply pour your girls their favourite tipple and engage in polite conversation. Our butlers provide professional yet cheeky hospitality and are happy to mingle, charm the guests and pose for photos. The icing atop a bespoke package, what is a hen party without a bow-tied butler?
We have a strict recruitment policy and only take on the most handsome butlers, so rest assured there will be eye candy for every hen! We allocate butlers in terms of proximity to your chosen property, but if you have preferences you can contact our coordinator and we will endeavour to meet your needs. Your semi-naked butlers will arrive with ample time to change and be ready for the evening, and their personalised service is down to you. They will spend 2 hours with your party, serving drinks and food if required, playing cheeky party games or just having a friendly chat. It is the best ice breaker and will make your hens feel at ease. They are more than happy to pose for a group photo too!
How Long Is This Activity For?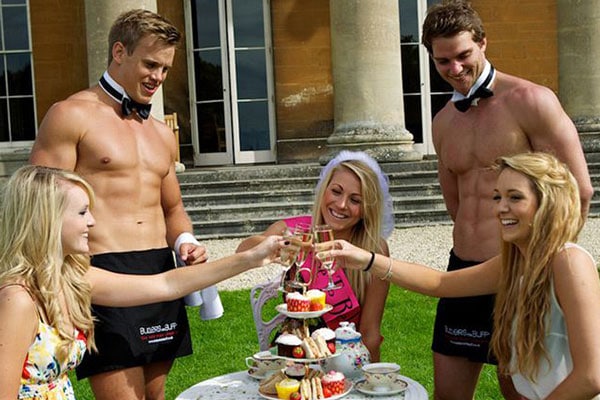 This activity lasts 2 hours and can include services alongside cocktail making, gin tasting or wine tasting parties. Our butlers will also serve food during a private chef's hot supper if required to make your evening unique and fun.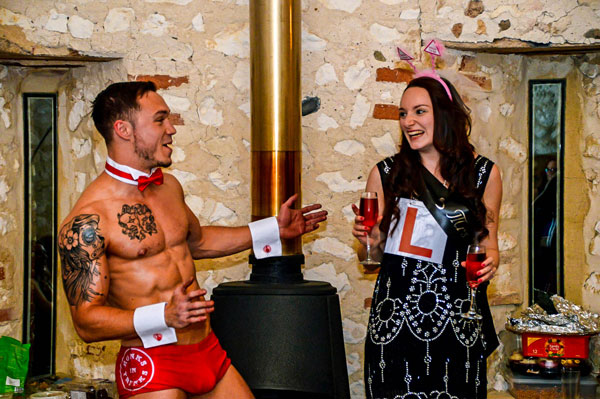 If you are searching for the right way to add a cheeky twist to your pre-nuptial festivities, look no further. Our cheeky butlers keep the shindig classy and sophisticated, and as they are chosen for their charisma and confidence we can guarantee a brilliant time. Our butlers are hardworking and reliable, so your pre-wedding event will be in good (looking) care from start to finish!
WHAT OTHER ACTIVITIES CAN BE BOOKED WITH THIS?
We recommend booking a group photoshoot or live singer for the evening to create a real party atmosphere, you can then be served by your cheeky butler and dance the night away. A popular choice is to book a cheeky butler for a cocktail masterclass, gin tasting party, private chef's three course meal or hot supper!