Luxe Wellness Retreat Sleeps 13 to 23 - Indoor Spa - Hot Tub- Thermal Room - Massage Parlour - Entertainment Lounge

RESERVATION SERVICE - Reserve your property for 5 days by paying a reservation fee of £75 to secure your dates. Give yourself chance to get deposits from everybody!
Key Property Details:
Sleeps 13 – 23
2 night weekend stays / 2 night midweek stays
Sunday Spa Celebrations Available with overnight stay- Min 10 people
Beautiful Private Wellness Spa just for you!
Indoor Spa Room with State of the Art Hot Tub
Thermal Room - heated tiled benches with Himalayan salt brick wall
Massage parlour & Changing room
Entertainment Lounge Including:
Cinema Screen
Pool Table
Bespoke Bar with VIP Seating
The perfect property to unwind and relax your body and mind.
YORKSHIRE LUXE WELLNESS RETREAT IS BRAND-NEW FOR 2020!!
THIS UNIQUE HOLIDAY COTTAGE IS AVAILABLE FOR EXCLUSIVE PRIVATE HIRE FOR WEEKENDS, SUNDAYS & WEEK STAYS.
THE ULTIMATE HOUSE TO RELAX & UNWIND
Enter the house to a grand staircase with floor to ceiling glass windows capturing breath-taking views over the beautiful gardens.
Walk down the stairs to the open plan wellness spa boasting its very own thermal room - heated tiled benches with Himalayan salt brick wall, a state of the art hot tub, massage beds & changing room facilities! This gorgeous house even has its own VIP entertainment lounge with Cinema Screen & a beautiful custom built bar! Make everlasting moments and memories whilst dinning in the huge kitchen area and lounge, let us pamper you and enjoy a Celebration Meal cooked for you by your very own chef! Fabulous views over the private garden from the beautiful sun lounge located on the top floor. This is the perfect luxury escape for a wonderful weekend away with your family and friends, whether it's a sophisticated ladies weekend or time away with your family, this stunning Holiday Home has it all!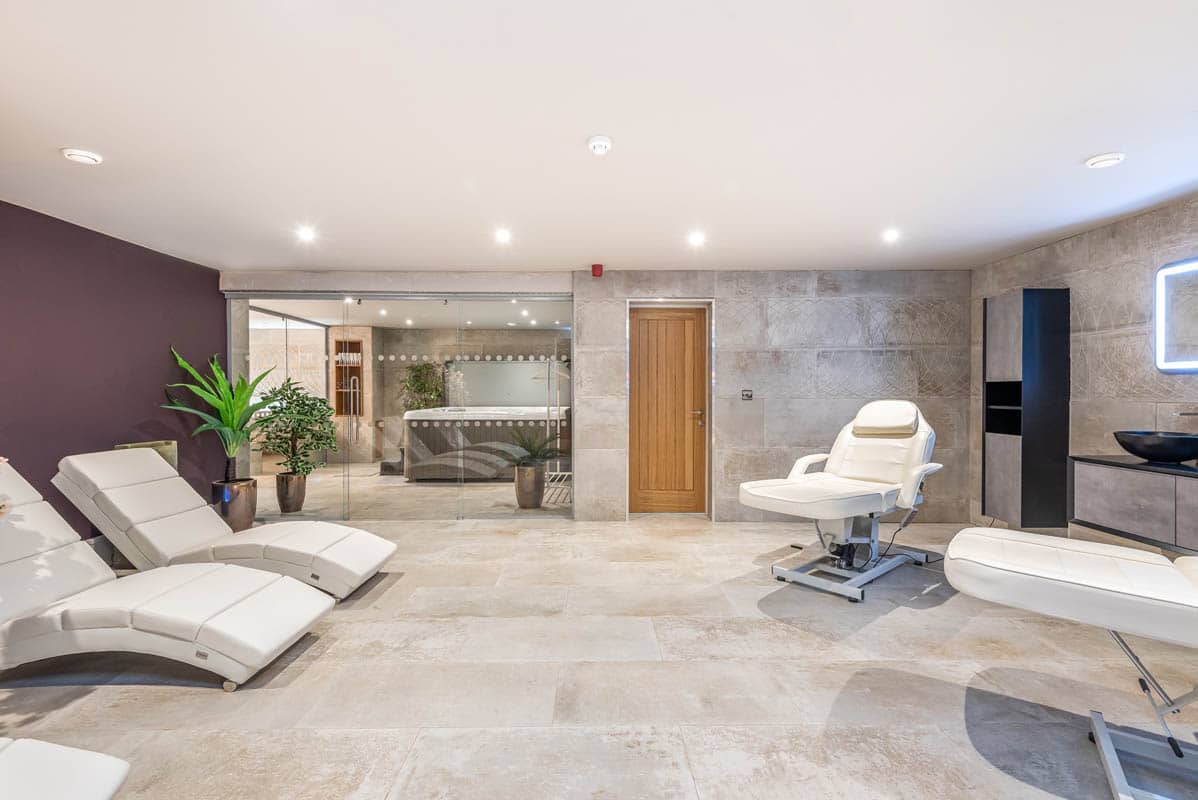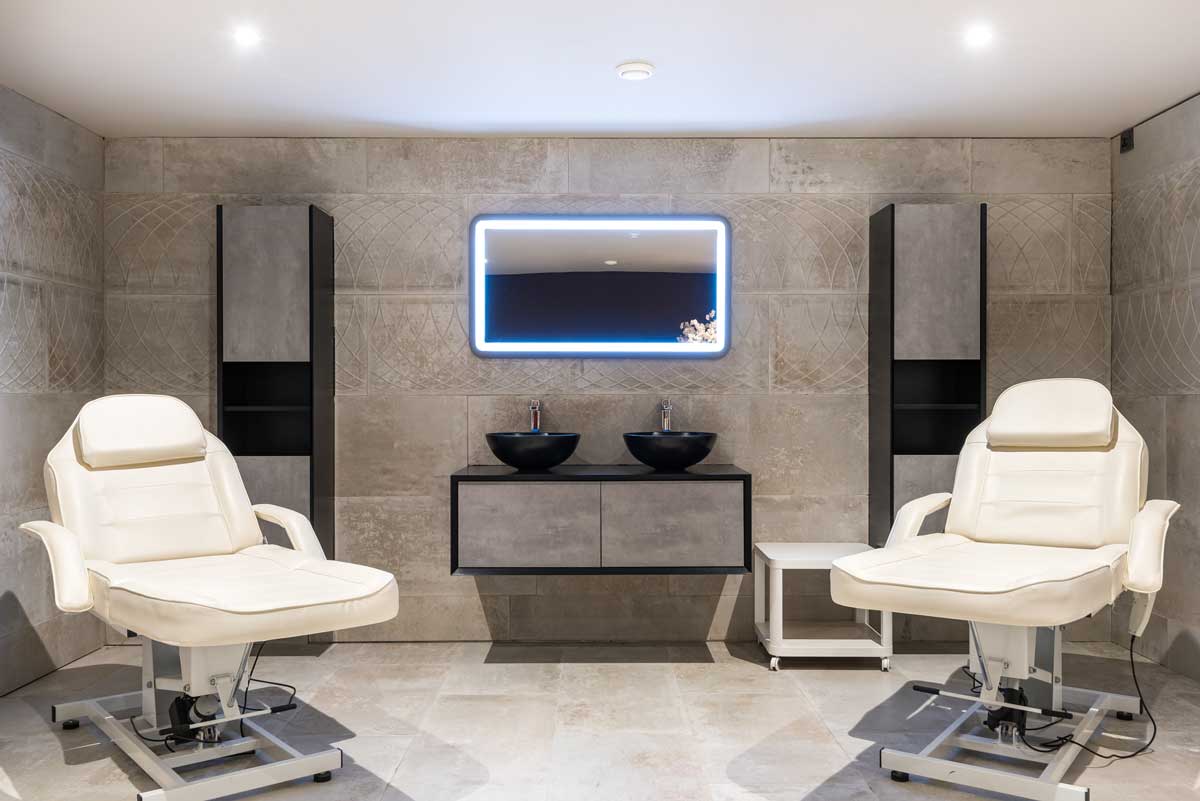 2 Night Packages with:
£200pp

Capture the moment – group photoshoot

£215pp

Relax & Unwind - spa treatment

£225pp

Come Dine with Me -  chefs 3 course meal

£235pp

Its All About Me - spa treatment & Group Photoshoot

£255pp

Raise Your Glass –  cocktail class, pizza night and live singer

£265pp

Celebrate in Style - spa treatment & Chefs 3 course meal

£295pp

My Secret Escape  - Chefs 3 Course Meal, Sat – Spa treatments & Afternoon tea

£360pp

The Luxe Wellness Experience  - Canapes & Prosecco on arrival, Your own private chef will then cook you all a delicious 3 course meal, Saturday enjoy a calming Spa treatment while afternoon tea is beautifully set out for you, spend the afternoon relaxing in the new state of the art hot tub and enjoy the experience of the thermal room with heated benches and Himalayan salt brick wall, before reclining in your own cinema seat for your favourite film to start. Get ready for the evening and enjoy a cocktail class at your very own cocktail bar before a selection of scrumptious pizzas are delivered for you.
Yoga or Fitness classes can be added as an extra for £30pp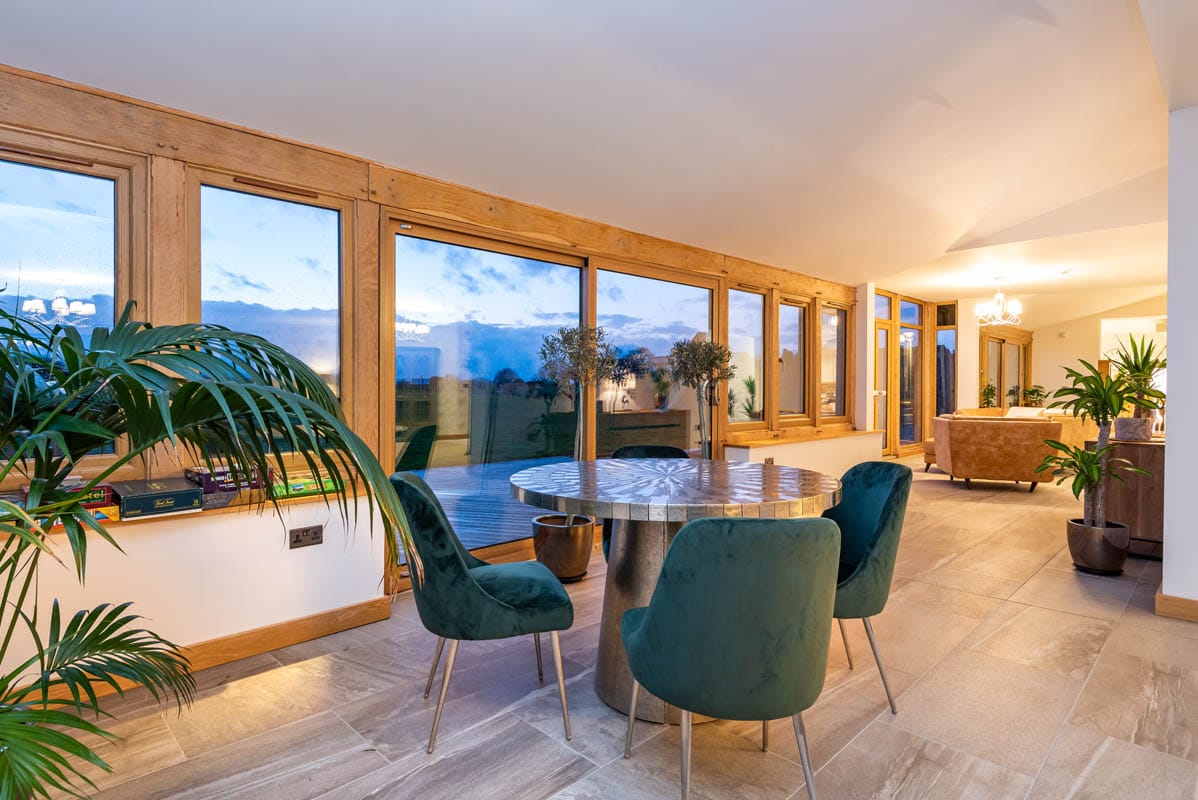 (Min 10 people – Max 25)
£195pp

SIGNATURE SUNDAY - Arrive at 1pm with afternoon tea on arrival, spa Treatments in the afternoon, chefs 3 course meal in the evening and an overnight stay.

£150pp

SELFIE SUNDAY - Arrive at 1pm, group photoshoot at your accommodation and an overnight stay.

£155pp

SPA SUNDAY - Arrive at 1pm, relaxing Spa Treatment in the afternoon and an overnight stay.
ONLY £195pp – Min 10 people - Max 23 – Available Midweek – includes afternoon tea, spa treatments and a chefs 3 course meal with overnight stay.
Please note: you can upgrade any of your spa treatments individually from a 30 minute calming treatment, to a Luxury 45 minute treatment or really pamper yourselves and indulge in a Deluxe 1 hour treatment!
Additional treatments can be added on.
Please Note:  All bookings at the Luxe Wellness Retreat are packages only, please choose from one of the packages above, once you have chosen a package you can add on additional activities.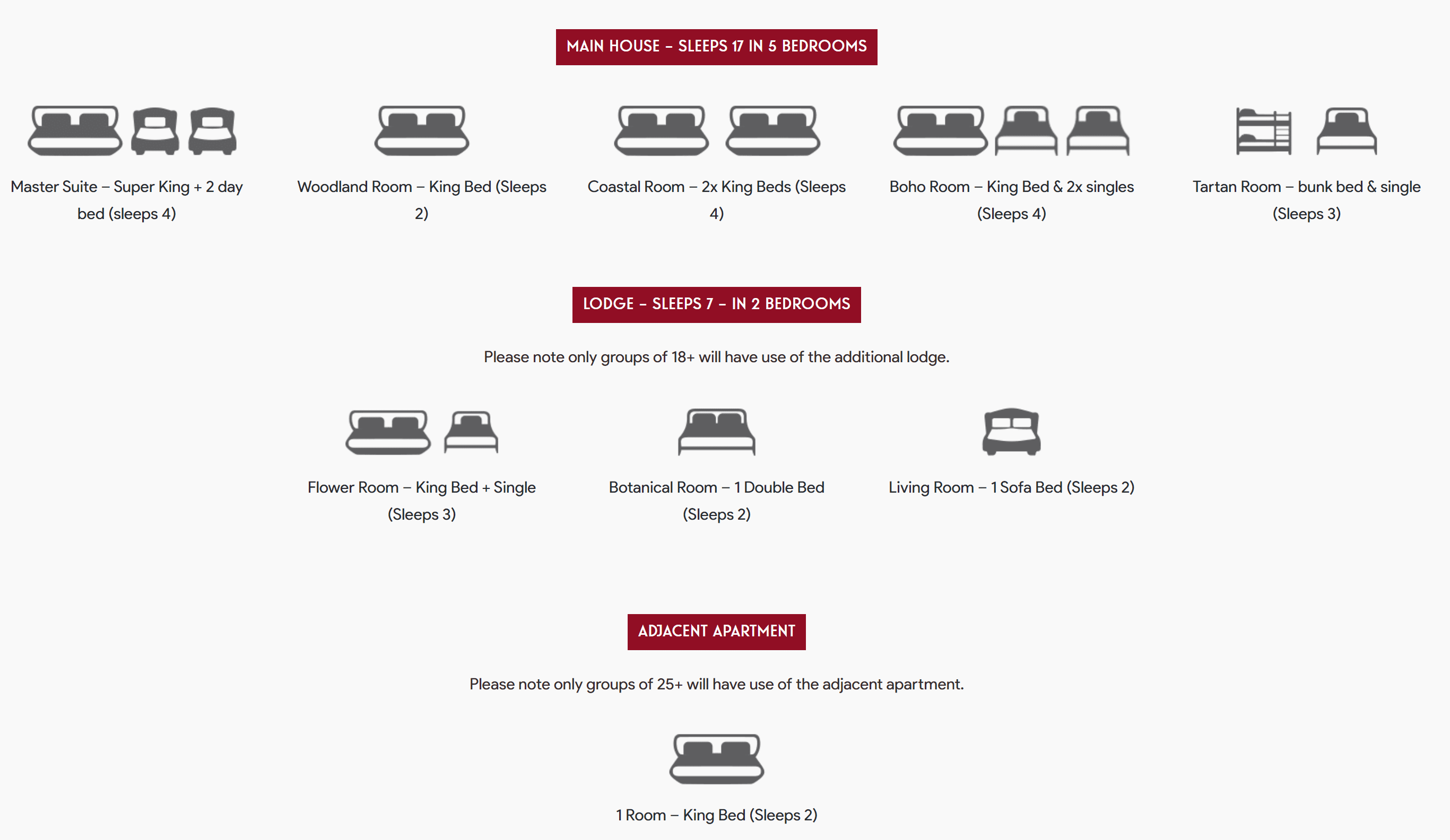 Booking Information:

We require a non-refundable 30% deposit via bank transfer at the time of booking
All bookings are subject to a premium property booking fee of £215 which is due at the time of booking and is non-refundable.
The full balance is to be paid 12 weeks prior to your stay.
Sorry we do not accept credit cards.
We require an additional £500 security deposit for this property aside from your required balance, which is refundable 7 days after you vacate the property provided that there are no damages and house rules are kept to. For further info please see Booking Terms & Conditions

All final arrangements will be sent to you once the full balance had been paid – please refer to this for all the house rules.

RESERVATION SERVICE - Reserve your property by paying a reservation fee of £75 to secure your dates for 5 days to give you chance to get deposits off all your friends and family.
Check in is 3pm
Check out is 10am
Please Note: Due to narrow roads there is restricted access for mini buss's so please arrive only in cars.
Week stays, Weekends, Midweek Stays and Spa Sundays – all welcome.
This property is in a residential area so only low key  bookings are allowed here.
We ask that you keep any noise to a minimum when outside the property. – Please refer to the final arrangements which will be sent to you once the full balance has been paid for full details of all house rules.
Activities
If you have booked Activities, our package coordinator will be in touch with you to arrange the times and send you any menus/ spa choices etc, only once the final balance has been paid and numbers are confirmed. Please note No 3rd party suppliers are permitted at this property unless booked through Celebration Cottages. If any 3rd party suppliers have been directly booked we do ask you to cancel any such activities.
Hot Tub/Heated Salt Bench
Please note – Any ladies who are pregnant we recommend that you do not use the hot tub,  Please do not use the hot tub if you have fake tan on. We recommend that a maximum of 15 – 20 mins is spent in the hot tub at any one time, any longer can result in heat rashes or a reaction to the chemicals used to maintain the water cleanliness.
Types of bookings
Low key girly weekends
Low Key Birthday Celebrations
Family Weekends & Family Week Stays
Sorry no stag parties or no house parties allowed.