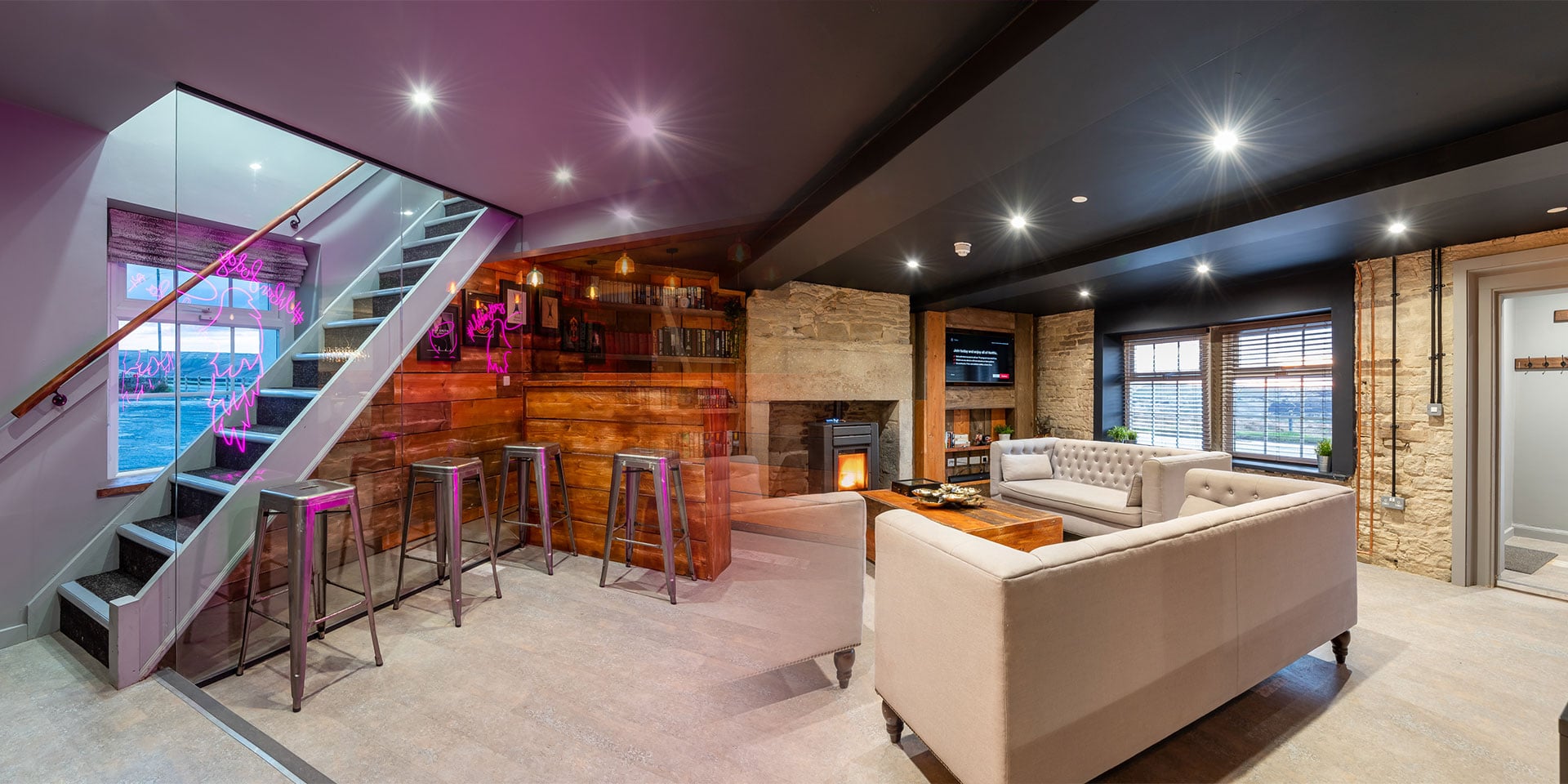 Urban Lodge Sleeps 13 – 17 in 5 Bedrooms - Indoor Spa room with hot tub - Disco Room
Key Property Details:
Sleeps Min 13 – Max 17 ( Weekends )
Sleeps Min 10 Max 17 Sundays or Midweek
Disco Room
Indoor Spa Room with Hot Tub
5 Bedrooms
URBAN LODGE ADJOINS THE FABULOUS HOUSE OF SELFIES. BOTH PROPERTIES CAN BE BOOKED TOGETHER TO CREATE ONE LARGE HOUSE WITH A CONNECTING INTERIOR DOOR - OR CAN BE BOOKED SEPERATELY. PLEASE NOTE: BOTH PROPERITES HAVE THEIR OWN INDOOR SPA ROOM WITH HOT TUB ( EXTERIOR BUILDING ) AND BOTH PROPERTIES SHARE THE CAR PARK. AS THESE HOUSES ARE ADJOINING WE ASK ALL GUESTS TO BE RESPECTFUL OF NOISE LEVELS AT ALL TIMES
The Urban Lodge is one of our latest holiday homes, offering a unique interior with exposed stonework and beams, it truly is a gorgeous property. Boasting its own indoor spa room with hot tub and entrance to a disco/karaoke room, The Urban lodge has breath-taking views over the moors, but offers easy access to the motorway with only a short journey to Manchester or Leeds. With five beautiful bedrooms you will be able to get ready in style while your own private chef prepares a delicious three course meal ( can be booked in addition ) – for larger groups an additional table will be added to the dining room. The Urban lodge adjoins another of our fabulous holiday homes "The House of Selfies" which is slightly larger than The Urban Lodge, with its own selfie room! If you are looking for fun, modern quirky accommodation then this is the place for you!